January
23rd January 2021: SFX, It's A Sin and Knightmare
Channel 4 drama It's A Sin depicts the character Ritchie, an actor, in a fictional episode of Doctor Who. SFX magazine celebrated this with a mocked-up October 1988 magazine cover (in their modern design) that makes reference to other TV series and films of the time such as Red Dwarf, Star Trek: The Next Generation... and Knightmare!
You can see this cover, as tweeted by SFX editor Darren Scott, here.
Knightmare featured on a genuine SFX magazine cover in July 2006, with a short article about Knightmare in the magazine. We have more details
here
.
February
10th February 2021: Knightmare Series 4 on BritBox
Series 4 of Knightmare (1990) will be available on streaming service BritBox from Thursday 4th March.
It will be part of BritBox's new 'Back to the 90s Collection' which also includes episodes of The Crystal Maze (Richard O'Brien era) and Jungle Run. Other CITV favourites like Press Gang are already available.
It's been a while since Knightmare was last repeated on TV, so we're glad that BritBox is giving people a new way of watching it in high quality, especially during this period of widespread armchair adventuring.
Here's hoping that it will open the portal for Knightmare's other series to be added too.
12th February 2021: Fan video: Lego Knightmare
The first instalment of Bricking-It & friends' charming and entertaining Knightmare quest in Lego.
20th February 2021: Interview with dungeoneer Anthony
Anthony Haigh, dungeoneer for Series 2 Team 11, was Paul Flannery's guest on the Knightmare Live Twitch channel on 19 February. Anthony talked about his experience filming Knightmare in 1988 and how he later designed his own Knightmare board game.
A recording of the interview is available for a limited time on the Twitch channel.
March
7th March 2021: Mark Cordory podcast interview
Mark Cordory, who designed and sculpted Smirkenorff the dragon as part of Talismen, was a guest on Episode 293 of the podcast I Saw That Years Ago. From 58:30, he talks about his experience of working on Knightmare.
29th March 2021: Watch El Rescate del Talismán
The official Archivo RTVE website has several episodes of El Rescate del Talismán (Spain's remake of Knightmare) available to watch here. No registration required.
Interestingly, the lengths vary from just under 25 minutes to just over half an hour.
April
21st April 2021: Family video from Joanne Heywood
Made by Joanne Heywood (Stiletta in Knightmare Series 8), a wonderful video telling the story of her parents' long and happy romance, from first meeting to overcoming the challenges of lockdown.
28th April 2021: G:DnC Show interviews Hugo Myatt
The Geeks: Destroy & Conquer Show have interviewed none other than Treguard himself, Hugo Myatt.
Listen to the interview on the G:DnC Mixcloud page here.
May
8th May 2021: Juliet Bryant in INXS video
In a Top of the Pops 1990 episode repeated yesterday on BBC Four, we spotted a Knightmare actor in one of the music videos.
Juliet Bryant (or Juliet Henry-Massy as she was then), who played Gwendoline and Aesandre in Knightmare Series 5, appears briefly in the video for Disappear by INXS. Watch the video on YouTube here to see if you can spot her.
Juliet says: 'We did two days filming for those snippets. It was great fun though ... The band were lovely to work with so happy memories.'
10th May 2021: Edmund Dehn plays Joseph Grimaldi
Edmund Dehn (Knightmare Series 1-2: Giant, Gumboil, Igneous, Automatum), plays the title role in Tricolore Theatre Company's audio play Grimaldi's Last Act.
That title role is Joseph Grimaldi (1778-1837), the performer who popularised the modern concept of clowning. The play is based on Charles Dickens' biography of Grimaldi.
Grimaldi's Last Act is set to come to the theatre in 2022.
15th May 2021: Paul Valentine could marry you
Paul Valentine, the Knightmare Series 3-8 actor who played Motley, Sylvester Hands, Fidjit and the Boatman, is a celebrant for weddings and vow renewals in Mallorca.
You could call it nominative determinism i.e. living up to his surname.
Paul's website, I'm a Celebrant, has more information.
16th May 2021: Knightmare Live: shows in 2021
Following its temporal disruption in 2020, Knightmare Live has shows planned for later this year.
29 October: Kings Place, London
10 December: Cornbow Hall, Halesowen
Both of these dates are Fridays. Naturally.
Check the Knightmare Live Facebook page for booking details.
June
6th June 2021: Interview with dungeoneer Stuart
The latest episode of the Temporal Discussion podcast, covering Series 2 Episode 10, features dungeoneer Stuart Leatherland from Series 2 Team 8 as its guest.
Stuart explains why the team took a weapon in the Level 2 clue room (he hadn't received the Adventurer's Code) and shares some behind-the-scenes facts about his trousers.
Temporal Discussion, currently released fortnightly, is available on the main podcast platforms or via the Temporal Discussion website.
10th June 2021: Interview with Juliet Bryant
This month's issue of the Curious British Telly fanzine includes an interview with Juliet Bryant (née Juliet Henry-Massy), who played Gwendoline and Aesandre in Knightmare Series 5.
Juliet talks about how she got into acting and became part of the Knightmare cast, as well as what she's done since.
The Curious British Telly fanzine is available by post in classic printed form, by emailing curiousbritishtelly@gmail.com or contacting @CuriousUkTelly on Twitter.
July
16th July 2021: Interview with Jason Karl
The latest episode of the Temporal Discussion podcast, covering Knightmare Series 2 Episode 13, features as its guest Jason Karl aka winning dungeoneer Julian Smith from Series 2 Team 10. Jason answers questions about his Knightmare experience.
The episode is available on the main podcast platforms or via the Temporal Discussion website.
August
8th August 2021: Edmund Dehn in Lear Alone
Edmund Dehn (Knightmare Series 1-2: Giant, Gumboil, Igneous, Automatum) stars in And Tomorrow Theatre Company's web series Lear Alone.
Using only King Lear's lines from Shakespeare's play of the same time, the series explores loneliness, ageing and homelessness in a digital world. It was created in partnership with the homelessness charity CRISIS.
Lear Alone's filming locations include Denville Hall, the care home for entertainers and actors where some Knightmare cast members have lived.
All five episodes of Lear Alone are available until 3rd September on the Scenesaver YouTube channel.
31st August 2021: Dave Morris interview
From James Aukett via our forum:
During the weekend just gone, author of the Knightmare books Dave Morris recently gave a interview as part of International Gamebook Day where he talks about this and his other works such as Fabled Lands, Blood Sword, Dragon Warriors and Virtual Reality Adventures.
The full interview can be found here.
However - should you wish to just skip to the parts where the Knightmare books are discussed, these can found at 25:19 and 43:13 (the latter focuses on the change in format of the last book, Lord Fear's Domain).
September
5th September 2021: In memory of Paul Boland
Some sad news: Knightmare.com contributor Paul Boland passed away earlier this year.
Paul and his team passed the Knightmare audition – the first from Ireland to achieve this – but unfortunately missed their opportunity to take part. To make up for that, Paul was invited to visit the Anglia TV studios to see Knightmare Series 7 and Series 8 being filmed.
Paul kindly shared details and photos of these special experiences with us. You can find them here.
Accompanying Paul to the Knightmare filming was his sister Julie. She writes:
'Paul loved Knightmare. It literally impacted on his life from the first time he watched it.
He used the initials PKB, K for Knightmare of course. He called his games development and website KnightTrek Productions after his two favourite shows, Knightmare and Star Trek.
In recent years he even created a game called Dungeoneer influenced by his favourite TV show where you were trapped in a dungeon and had to escape.
When we were kids Paul would draw causeways on our driveway in chalk and send us on quests. He would play all the parts, we'd have objects tables to pick from, scrolls to read, spells to cast and a few close encounters with Lord Fear along the way.
I miss him so much and I want to say thank you for keeping his write-up of our time in the Studios on the site and our photos.'
Many of us will appreciate what it means to have Knightmare as an important part of our childhood and beyond. For giving something back and enriching the fan community, we remain very grateful to Paul and hope his family can be proud of his legacy.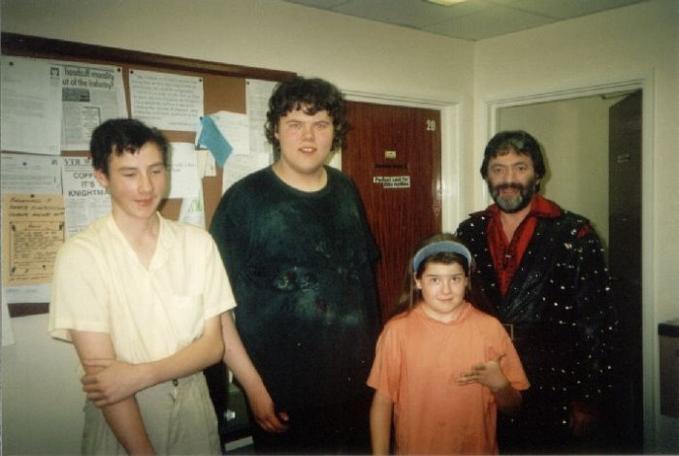 You can hear Paul talking about his 2017 game Dungeoneer in this YouTube vlog. The game is available to download from Steam.
We send our condolences to Julie and all of Paul's loved ones.
16th September 2021: Knightmare in Josh Widdicombe's memoir
'Watching Neighbours Twice a Day...: How '90s TV (Almost) Prepared Me For Life' is Josh Widdicombe's memoir, published today and focusing on the TV series he grew up with. There is a short section on Knightmare. (It's not listed under K in the hardback edition's index for some reason.)
Josh has previously established himself as a Knightmare watcher by referring to it on social media, Mock The Week and his Quickly Kevin podcast. In his book, he says it was his 'number-one dream to go on the show'.
While we're grateful to Josh for referring in print to 'the greatest children's game show of all, Knightmare', not all of his comments about it are so spot-on. These include references to gameplay as 'actually quite a slow experience all round' (it depends on the quest) and to 'an extra life potion' (Knightmare was, in Treguard's words, "no game of numerous lives").
Josh also refers to a childhood rumour about a boy named 'Dicken Hairs' completing Knightmare, adding: '[I] have no idea if this was true ... perhaps it was just a myth at my school'. It's unclear why Josh hadn't looked for verification online. All four episodes of Dickon Hares' winning quest (Series 4 Team 6) are currently available on BritBox.
November
19th November 2021: Hugo Myatt on Temporal Discussion
The latest episode of the Temporal Discussion podcast, covering Knightmare Series 3 Episode 1, features as its guest Hugo Myatt: Treguard himself.
The episode is available on the main podcast platforms or via the Temporal Discussion website.
28th November 2021: Joanne Heywood in panto in Lichfield
Joanne Heywood (Stiletta in Knightmare Series 8) is back in pantomime, appearing in All New Adventures of Peter Pan at the Lichfield Garrick Theatre from Thursday 25th November 2021 to Sunday 2nd January 2022.
You can find out more on the Lichfield Garrick website.