These sinister corridors appeared in the early series of Knightmare. They were riddled with hazards, from moving walls to disintegrating floors.
---
Series | 1, 2, 3
Level | 1, 2
The Corridor of the Catacombs is a long, straight corridor with exits in the left and right walls.
It appeared in several guises but always carried some sort of danger.
The original corridor has purple and brick red tiling with symbols by the near doors. Teams might need to hold or remember a clue object to identify the correct exit.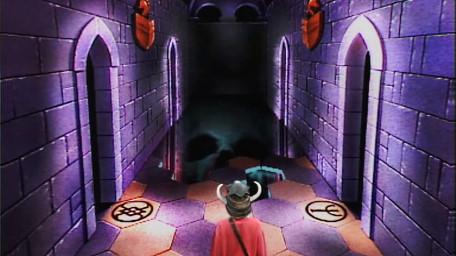 Variants of the corridor were shades of blue and green, often with a darker background where malignant creatures would lie.
Series 1
The corridors are full of dangers. In the first season, this is sometimes attributed to the army of the dead, which is heard but never seen.
A common hazard was a disintegrating floor, which threatened to drop the dungeoneer into an abyss.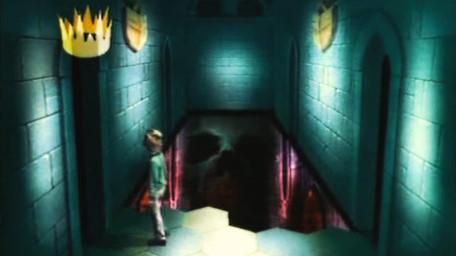 Series 2
From the second series, dungeoneers might find creatures or sub-human guards in the background.
The most striking of these was a 'toadodile' - a green amphibian that thrashed its limbs menacingly.
Any character accompanying the dungeoneer would stay to challenge or distract it while the team escapes.
Series 3
In Series 3, the corridors were regularly patrolled by goblins.
This was particularly hazardous in Level 2, if dungeoneers needed to collect a piece of their quest beyond the first door.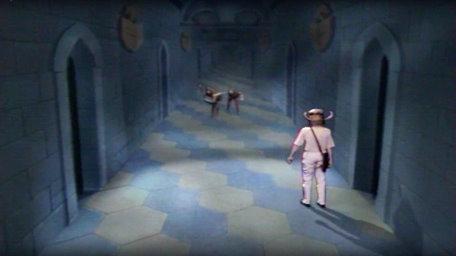 Another hazard in the third season was the rear wall, which advanced towards the dungeoneer at intervals. One dungeoneer uses a GHOST spell to advance through the wall.
This is patrolled by the army of the dead. Exit with haste, or your quest ends now.