Team 4: Ben, Jonathan, Ray and John from Exeter.
---
The fourth quest of Series 5 was for the Shield and lasted 63 minutes.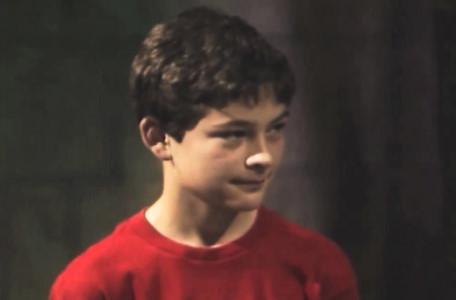 Level 1
Ben begins with a flight on Smirkenorff. The dragon flies him to a castle.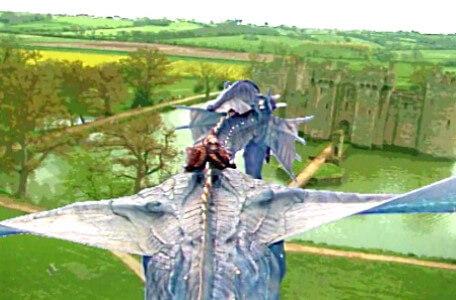 Treguard: "As it's no secret, I'll tell you - you're in for a bit of a ride!"
Outside the castle gates, Ben finds clues. A scroll reads: 'Look - but not here.'
Ben takes a spyglass and some silver, leaving behind some rope and an arrow.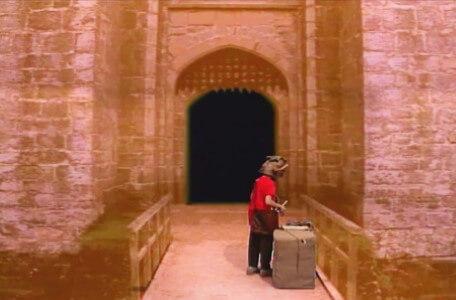 Deeper in the castle, Motley the Jester is stuck in the pillory. He says an elf has locked him in.
Motley asks Ben to find a green stone and bargain with her to release him. After Ben agrees, the jester shows him how to use the spyglass.
Spyglass: Lord Fear warns Skarkill that if he fails to catch the dungeoneer, his goblins will be put in charge of him.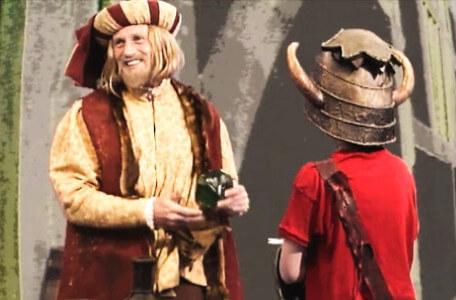 The team proceeds. In a clearing, they find the trader Julius Scaramonger having a drink.
Who do I have the pleasure of diddling? I mean, dealing with?
Scaramonger tries to sell Ben a firestone but the team insist on a green stone. He exchanges one for the silver.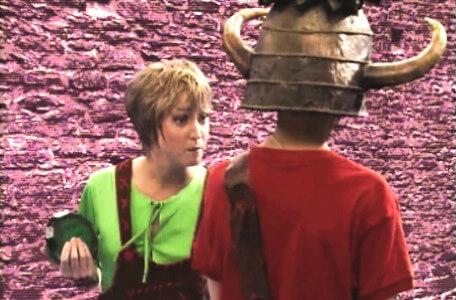 Ben finds the elf, Elita, who tries to scare him off.
Pickle: "Elita gives elves a bad name."
Treguard: "Be fair, Pickle. She gives everyone a bad name."
Ben makes her promise to release Motley before handing over the green stone. Once she has the beryl, she gives the team a rhyme of colours.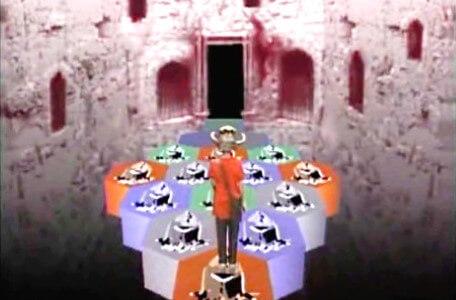 The causeway is made up of coloured tiles. The team follows Elita's combination to cross safely.
Motley soon catches up with Ben. He provides the password to Level 1.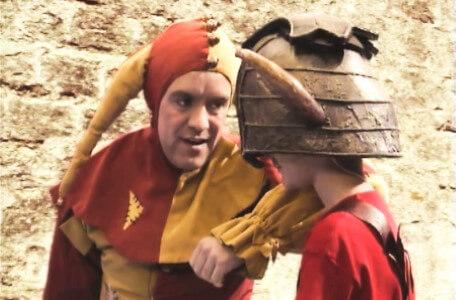 In a large courtyard, Ben is confronted by a blocker. Motley's password clears the way.
Hordriss the Confuser is sat by the gateway. He warns Ben about the reliability of the descender - in droll fashion.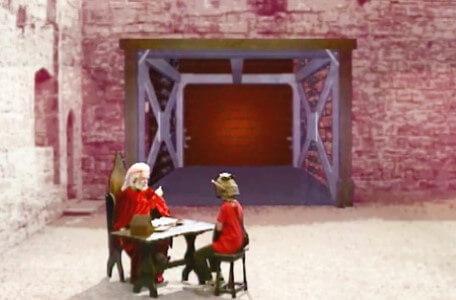 Hordriss: "That's the trouble with things operated by magic. They tend to go through the occasional 'bad spell'. One did actually make a joke there."
As instructed, the team halt the descender after four levels to reach Level 2.
---
Level 2
The Eye Shield leads to a large chamber, where Ben finds clues.
A scroll reads 'Rock breaks scissors'. The team decides to take a horn and a book, leaving behind a bar of gold.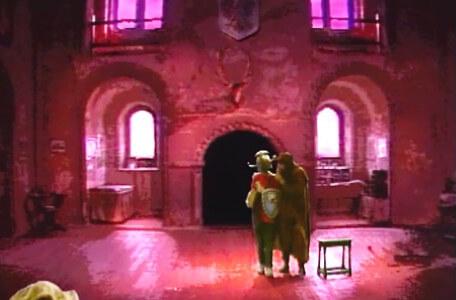 In a grand hall, Ben is stopped by Sylvester Hands, who senses an opportunity for a robbery.
Gwendoline the Greenwarden enters, looking for him.
Sly puts on a Helmet of Justice and pretends to be Ben!
Gwendoline decides a test of general knowledge will determine which is Hands.
Sly exits sharply as soon as it's clear that he has lost.
Gwendoline takes Ben into the Greenwood, giving him the password 'Morning Star'.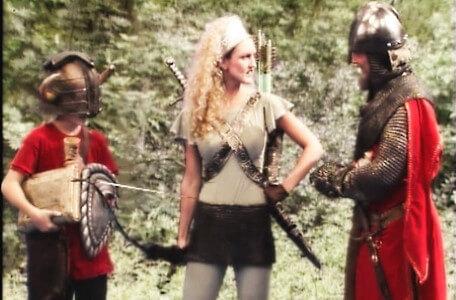 Sir Hugh de Wittless rides in to perform a rescue. The Greenwarden is unimpressed, but he catches her off guard and carries her away.
Ben passes through farmland called 'Greenshades' until he reaches a tavern.
Spyglass: Lord Fear is angry about Gwendoline, who has shot a load of goblins. Skarkill says he will catch her for extra pay, but Fear tells him to worry about the dungeoneer.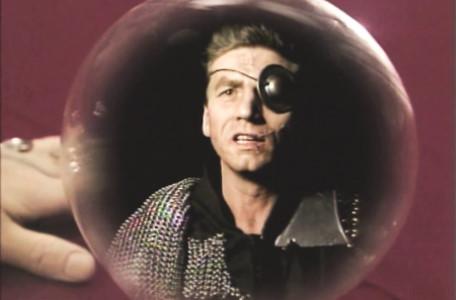 Brother Mace enters. He expresses interest in the book Ben is carrying.
The team are suspicious of him, so he offers help before Ben hands it over. He then provides a spell, SESAME.
As goblin horns sound, Ben runs across a field to reach the gate tower.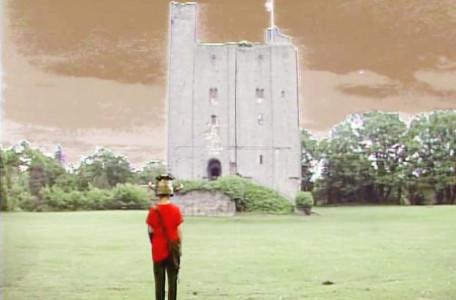 Treguard: "The last dungeon in Level 2, team, but I'm afraid Ben's going to have to cross a lot of open ground to get there."
Inside the tower, the causeway is made up of tiles bearing rock, paper and scissors. The team uses the hint from the scroll to cross safely.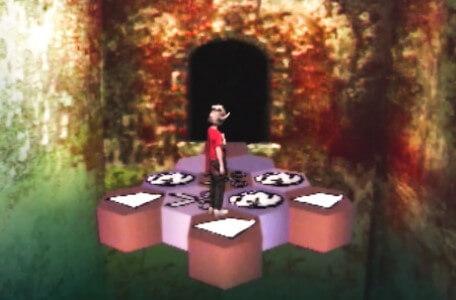 Ben passes a blocker using Gwendoline's password.
At the gate, Skarkill confronts the dungeoneer. Ben blows the horn and Gwendoline swoops in to save him.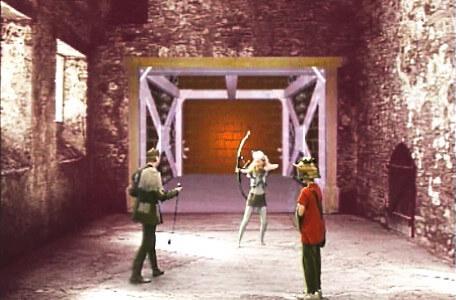 She says it's winter in Level 3. The advisors get Ben to pause the descender once they spot wintery scenes.
The door from the device is locked, so the team spell-casts SESAME to open it.
---
Level 3
Ben travels through snow-covered ground, which Pickle identifies as 'Winteria'. He is wearing a cloak!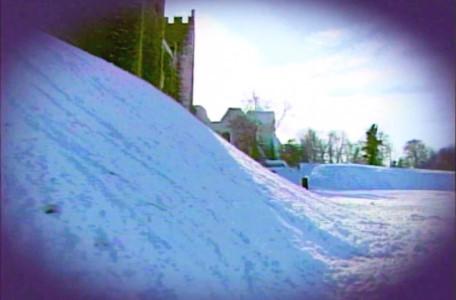 Pickle: "Master, where in the underworld did Ben get that cloak?"
Treguard: "Surely you realise, Pickle, that the Powers that Be have some influence, even in Level 3?"
Ben reaches a clearing with clues. The scroll reads: 'Give a dog a bone'.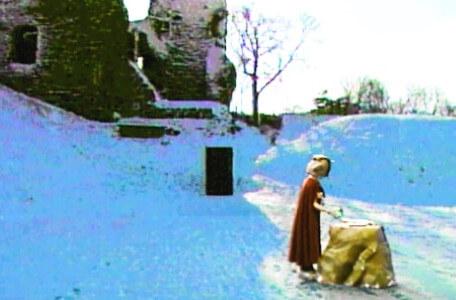 Spyglass: Lord Fear holds audience with a sorceress, Aesandre. He asks her to deal with the dungeoneer.
Lord Fear: "I want it stopped. I will, of course, express my appreciation in the usual manner..."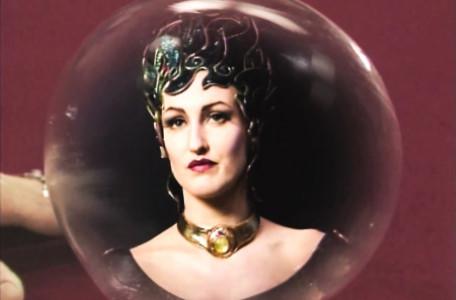 Ben takes a green stone and a bar of gold, leaving behind a dagger.
Into a green room, where a skull appears. Elita runs in to scare it away.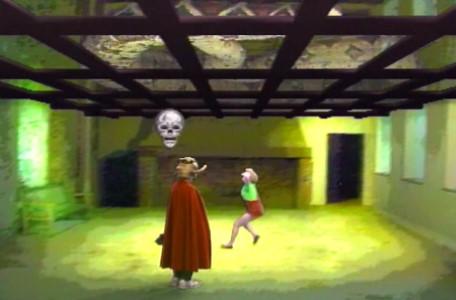 Remembering her fondness for green stones, the team bargains some help from her.
Elita: "You give me an idea of the sort of thing you might need, and I might hand it over."
Mindful of the scroll, Ben asks for a bone. Elita retrieves a bone and exchanges it for the gem.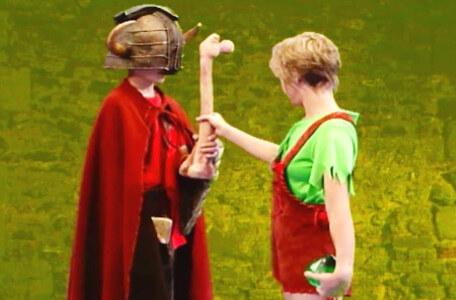 In a circular room (familiar from Series 4), Hordriss is hunting through a chest.
He wants the sphinx bone for a potion. The team exchanges it for magic.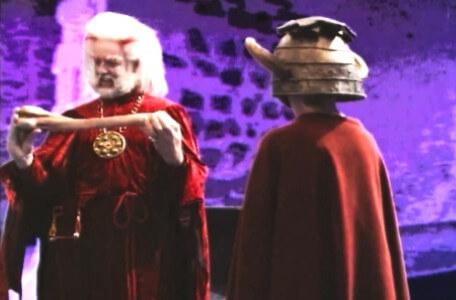 Hordriss: "I gift you two spells: FIRE and FREEZE. One defeats the sorceress Aesandre; the other releases the object of your quest."
Hordriss commands Ben to leave urgently. His final encounter awaits.
Will they succeed? See the Winners page.
---
Hear from the team
In August 2000, advisor Ray Lockton sent us photographs from the audition and filming days, along with scans of letters and documents they received from Broadsword.
See Ray and team's experience.
Ray also signed the guestbook:
Brilliant website. I was the team captain of the winning team of Series 5. John Shaw (the loud spellcaster) told me about the site in the pub. After all this time I can't believe I can download our winning clip! Thanks very much!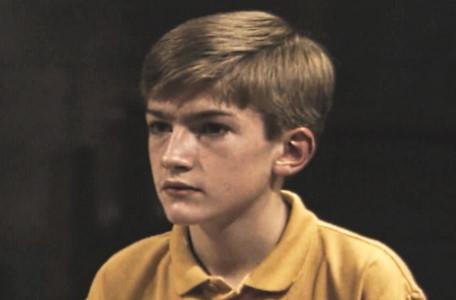 In October 2003, advisor John signed:
There must be some serious nostalgia going around the teams from Series 5 - I've not seen this for ages and suddenly someone in the office tells me that there's a whole site with pictures and videos of us on!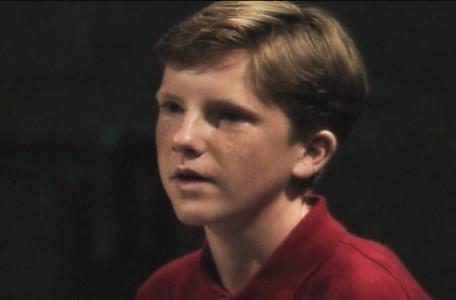 Winning was great, but a shame about the prize. One trophy between four is never going to work, and we've all had some time with it but I've not seen it in years. If Ray Lockton is reading this, please get in touch - Jon and I would both love some time with the Frightknight again!!
Great site - keep it up.