Two Knightmare actors appeared in Game of Thrones.
---
David Verrey (Golgarach and McGrew in Knightmare Series 3) was seen in Game of Thrones Season 2 as the High Septon. He has appeared more recently in The Musketeers.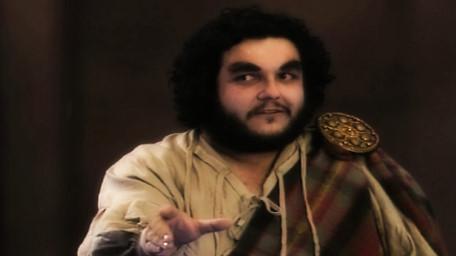 Cliff Barry (Lissard, Brother Strange and Raptor (below right) in Knightmare Series 7-8) was seen in Game of Thrones Season 3 as Greizhen mo Ullhor. Since then, Cliff has reprised the role of Lissard in Knightmare's Geek Week episode.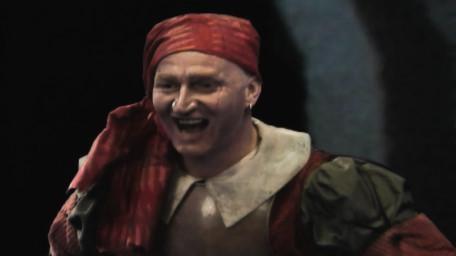 Both actors also had guest appearances in Series VIII of Red Dwarf.
With Knightmare and Game of Thrones both being fantasy TV series with literary roots and cult status, comparisons are inevitable. Here are some that have been made on Twitter and elsewhere. See which of the two shows you think comes off better.
'Damn. I got well excited for a moment thinking Illyrio from #GameofThrones was Treguard from #Knightmare but alas it is not to be.' Barry Makokiner (@Cinepub)
It occurs to me that #GameOfThrones is basically Knightmare: The Series, and Sean Bean is playing Treguard.' Marko (@Deadman97)
'the actor who plays Illyrio in Game of thrones reminds me of Tregard from Knightmare #amazingkidstv' @willgask
'Have finally worked out why I find Game Of Thrones so familiar. Its 80s kids show Knightmare for adults!' Craig (@cd_78)
'Overhead an episode of Game of Thrones last night. Sounded like a cross between Knightmare and Eastenders.' Matt Fowler (@mattfowler2)
'Weird episode of Game of Thrones #knightmare #citv' Journalist @caitlinmoran on the 2013 Old Skool Weekend Knightmare repeats
'Game of Thrones looks like it was all filmed in the same room with the backgrounds added in later, like a HD Knightmare' @jonnyathan
'Watching my first ever #GameofThrones. So far it's like a pornographic episode of Knightmare set in Narnia.' Jonathan Almond (@JonAlmond)
'Game of Thrones is just Knightmare with tits. I'd rather just watch Knightmare while looking at a photo of some tits.' @smogo
'Knightmare on @ChallengeTV is much better than Game of Thrones' Tom Nightingale (@Tomn_1986)
'No new #GameOfThrones tonight. Luckily I haven't watched this week's #Knightmare yet. Which is basically the same thing.' @davecuttle
'You know if Game of Thrones were made circa 1990 it'd look like Knightmare and that'd be kind of awesome.' @edknock
'Knightmare is just like an eighties version of Game Of Thrones.' Joel Young (@JoelBabyHerc)
'In #GameOfThrones is Roger Allam (Illyrio Mopatis) actually doing an impression of Tregard from #knightmare? It's uncanny.' Dean Rutland (@Herne_TheHunter)
'My favourite docusoap is back from tomorrow #GameOfThrones' @KnightmareLive
Fantasy interest has never been stronger, and we don't mind riding waves. People have said to me, 'what would a new Knightmare be like?' and I say, 'well, it'll be commedia dell'arte meets Game of Thrones, only with less sex and more jokes'.
Treguard and Jon Snow both appear in the digital fanart After All, it's Only a Game... Isn't It? by ElPresedente. You can see it on DeviantArt.
You'll find a connection later this year at Knightmare Live too. One of the advisors for their show on 20th June will be Gemma Whelan, who has appeared in Game of Thrones as Yara Greyjoy.