Claustrophobia was not among the dangers facing dungeoneers who ventured through this distinctive rocky landscape.
---
Series | 6
Level | 2
Location | Brimham Rocks, Yorkshire
Characters seen here included Heggatty, Sidriss, the Dreadnort and Lord Fear - in a double disguise where he pretended to be Hordriss pretending to be "Harris".
According to Lord Fear, the Rocks of Bruin had an elf portal to Level 3, but no dungeoneer ever found it.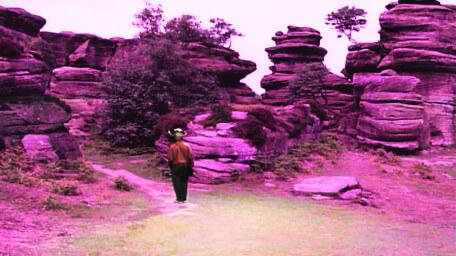 To see the real-life Rocks of Bruin, visit Brimham Rocks in North Yorkshire. Bruin, a bear, may have been named in honour of B's Dancing Bear rock.
It's a place of legend... You wouldn't like to know.