Home of the Grey Sisters and domain of Queen Greystagg, Witch Haven occupied Level 2 in several quests.
---
Series | 6, 7
Level | 2
Location | Various
The witches could be unwelcoming to outsiders. To progress through Witch Haven, teams had to employ dexterity (dodging Peggatty's aerial attacks), bargaining (Heggatty and Greystagg appreciated witch amber) and disguise (dressing up as a witch).
Dungeoneers weren't the only non-witches to visit Witch Haven. Hordriss, Sylvester Hands and Ah Wok were encountered there; Rothberry was permitted to enter to treat broomstick splinters. Ridolfo also seemed able to charm his way in.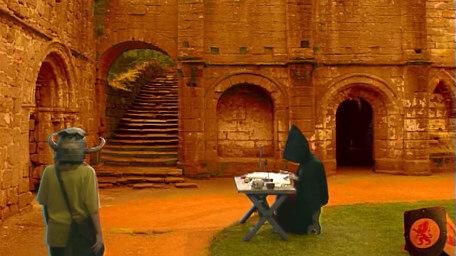 From a production standpoint, Witch Haven grouped various filming locations together including Fountains Abbey, Haddon Hall and Helmsley Castle. Three locations were regularly identified as Witch Haven.
Peggatty's room
Heralded by cackling, Peggatty would fly in on her broomstick and shoot fireballs at the ground. For a dungeoneer, a hit meant life force damage.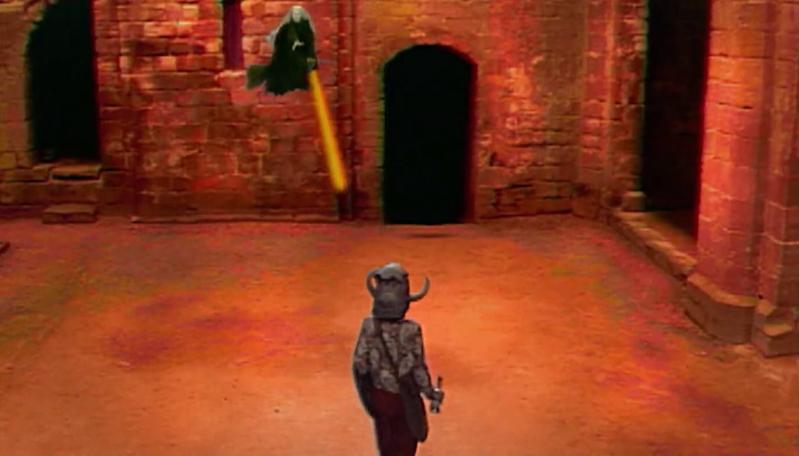 Various devices helped some dungeoneers make it across the room to the exit (Shield potion, broomstick), but speed and dexterity were usually enough.
This location was based on the south transept of the church at Fountains Abbey.
The palace corridor
Heggatty was seen in this oak panelled passage. So was Queen Greystagg, both in a dungeoneer encounter and in a spyglass scene (the only one not to feature Lord Fear). We may speculate that it was part of her palace.
Dungeoneers exited to the right.
The Long Gallery at Haddon Hall provided this location. It also appeared in El Rescate del Talismán, Spain's version of Knightmare.
Greystagg's throne room
Greystagg's throne room was seen in Series 7.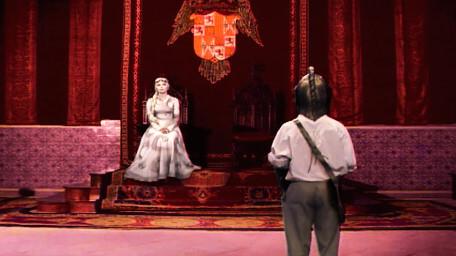 Due to Lord Fear's destructive tendencies, Witch Haven was no more after Series 7.
Witch Haven is sometimes written 'Witch-Haven' as it was named on a clue scroll that hyphenated the name across two lines.