A conveyor belt with blades passing down each side was Knightmare's most formidable and durable challenge.
---
Series | 4, 5, 6, 7, 8
Level | 1, 2, 3
The Corridor of Blades is Knightmare's most iconic and longest-lasting challenge. It featured over five consecutive series and was the second most lethal trial, claiming four victims.
Dungeoneers entered a moving belt and had to survive a series of circular blades that would pass down the walls. If they survived, the corridor would pause by an exit.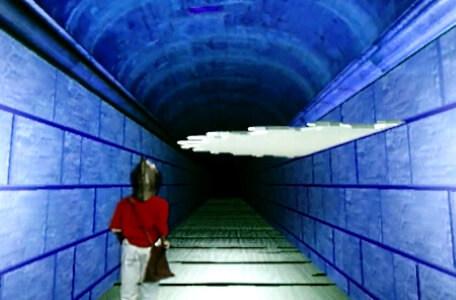 The easiest way to avoid the blades was for dungeoneers to move from wall to wall.
One challenge for advisors was to stop dungeoneers walking down the corridor, which increased the chances of being struck by a blade.
Some teams had prior warning that they were about to face the blades. Others encountered it unexpectedly, which could provide an extra disadvantage.
Short cut
The Corridor of Blades was normally a Level 3 challenge but could be introduced at other stages of the quest.
One team misjudged the descent to Level 2 and emerged straight into the path of an oncoming blade, with no chance of survival.
The Corridor was also used as a controversial 'short cut' from Level 1 to Level 3 in the shorter final series.
Into the void
The Corridor of Blades was also a challenge for the production team.
Since it was designed to be narrower than the standard room, members of the crew held blue boards in place to reduce the bluescreen area.
Knightmare's final team had to repeat the challenge after passing through a gap in the void and disappearing off screen.
Lopped off more heads and limbs than Vlad the Impaler and still going strong