Knightmare was produced by Broadsword for Anglia Television, which holds the franchise to broadcast for ITV in the East of England.
---
Anglia House, the station's original Norwich headquarters, contains four studios. The initial chromakey tests for Knightmare took place here, in Studio A. The pilot episode was also shot here in January 1987.
The eight series of Knightmare were filmed at Anglia's Studio E in Magdalen Street. Anglia had converted the unit into its fifth studio for larger productions.
What did the Knightmare set look like?
Knightmare required two identical bluescreen sets to be built adjacent to each other in Studio E. These sets were known as 'voids'.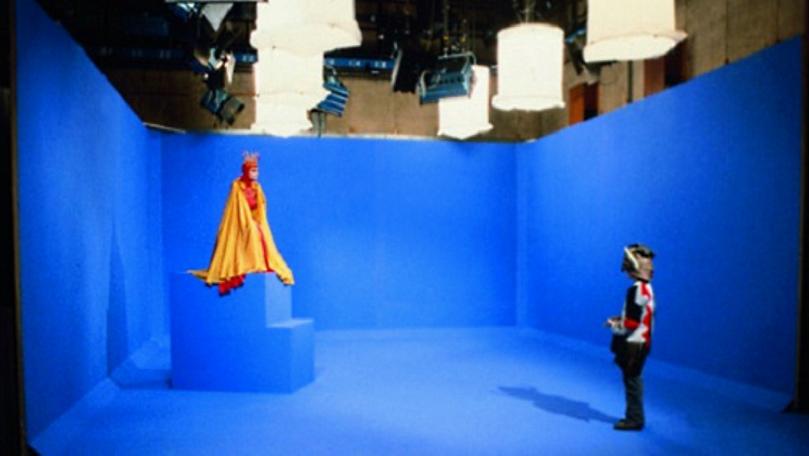 The right-hand void was used for regular gameplay and where the backgrounds were superimposed. The left-hand void was used for perspective tricks or for live close-ups of hand-operated puppets, such as Smirkenorff the Dragon.
The antechamber where Treguard and the advisors were based was set up in the corner of the same huge studio.
The set I was in was real... The advisors went into that, and so did the dungeoneer originally, so they never, ever saw the blue set.
From Anglia to EPIC
In 2006, with regional programming on the decline, Norfolk County Council purchased the Magdalen Street studio from Anglia. It was transformed into a creative hub for multimedia enterprise, known as EPIC (East of England Production Innovation Centre).
Broadsword's successor, Televirtual, was an early resident at EPIC. Televirtual was responsible for piloting the Knightmare VR demonstrator as well as other interactive gaming projects, including Timegate.
EPIC is also where the one-off episode for YouTube's Geek Week was filmed in 2013 and where the inaugural Knightmare Convention was held the following year.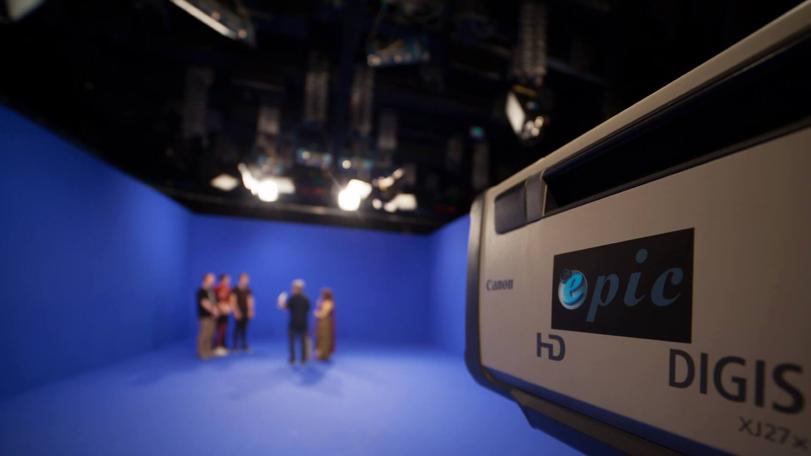 Anglia Television in the 1980s and 90s
Anglia Television was a growing force in the 1980s, with a strong reputation for documentaries and regional news. Large numbers of North Norfolk residents paid considerable sums to receive Anglia Television over Yorkshire Television until new relay stations were installed.
One of the broadcaster's treasures was a local news magazine programme, About Anglia. By the mid-80s, future Knightmare creator Tim Child was a producer on the show. He met Hugo Myatt through the then-presenter of About Anglia, Christine Webber.
In 1990, About Anglia was scrapped in favour of a pioneering news operation. Anglia Television would broadcast multiple editions of Anglia News from Norwich, creating separate bulletins for the East and West Anglian residents.
Towards the end of Knightmare's run, in 1994, Anglia Television was bought by MAI (owners of Meridian). The Controller of Children's Programmes at Meridian, Janie Grace, was unexpectedly overlooked for the position of Children's Controller at ITV. She now represented Anglia's interests and had to fight for Knightmare's survival.
MAI went on to form United News and Media, and bought HTV in 1996. In 2000, Granada bought United's TV portfolio before merging with Carlton in 2004, a move which signalled the end of Anglia as an autonomous company.
This frequent transfer of asset ownership is one reason why a DVD release of Knightmare has always been a major challenge.