A selection of fan contributions published in The Quest newsletter.
---
We have had lots of letters from people telling us how they play Knightmare at home, using dustbin lids as eyeshields and buckets as Helmets of Justice. Very inventive it is too! These are Treguard's original plans for the eyeshield which we gave to sculptor Emily Mayer.
She cast the one that we use for the dungeoneer in aluminium suspended in resin powder and then finished with paint. If any of you are adventurous enough to make your own out of papier mache or cardboard, do send us a picture of yourselves modeling them, we might print them in the next issue.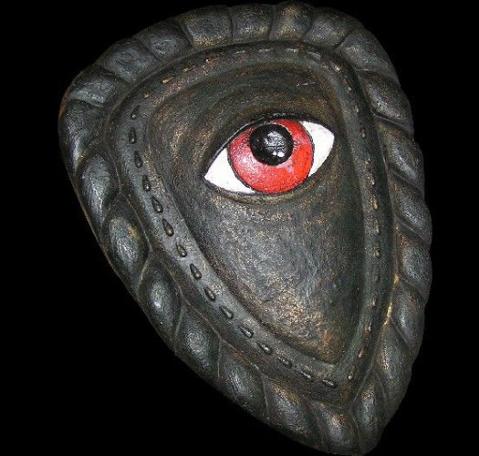 ---
See if you can untangle this secret message based on what Christopher Barnett - member no. 613 - has to tell you about ancient runes.

These are Anglo Saxon Runes. They were carved on wood or stone or even metal. They believed that runes had magical powers and that enemies could be cursed by using them.
---
A Quest
Rosalind Buttery - member no. 225 - sent us this poem which not only shows that she is a natural poet but also that she would be a determined adversary for Lord Fear.
Step boldly forwards,
The voice echoed on
As I took my last steps,
In the Safe Kingdom
Treading very carefully
I moved into level one
Hoping for my safety
As I met puzzle number one.
I chose my weapons carefully
To save my own dear skin
Now coming to the causeway,
Here's hoping that I'll win.
Arriving at the other side
I breathed a sigh of relief
Entering the next chamber,
I was shaking like a leaf.
But now I know that I
Stepped wrong,
I took one step too far,
And fell like a falling star.
Once more Lord Fear won his way,
I shall keep my anger at bay,
And hope that I'll return one day.
---
A collection of fan images:
Dancing Pickle by Edward Greenbery
Prickly Problem by Varuni Subramaniam
Lord Fear by Chris Lightwing
Samurai by David Edwards
DownloadView in the full issue (3.21MB)
Please keep your contributions coming!
---
'The Quest' is published by Broadsword Television
Broadsword are the producers of 'Knightmare' for Anglia Television and Children's ITV.