Online features about Knightmare's return by the Norwich Evening News, Epic Studios and ITV Anglia.
---
The news of a new special episode of Knightmare for YouTube's Geek Week also signalled a homecoming. Filming took place on July 24th-25th in Norwich, where the original episodes of Knightmare were filmed across eight summers from 1987-1994.
The Norwich Evening News carried a brief article about Knightmare's return on July 25th, followed by a full story in the following day's edition that included comments from creator Tim Child, actor Hugo Myatt (Treguard) and contestant Stuart Ashen.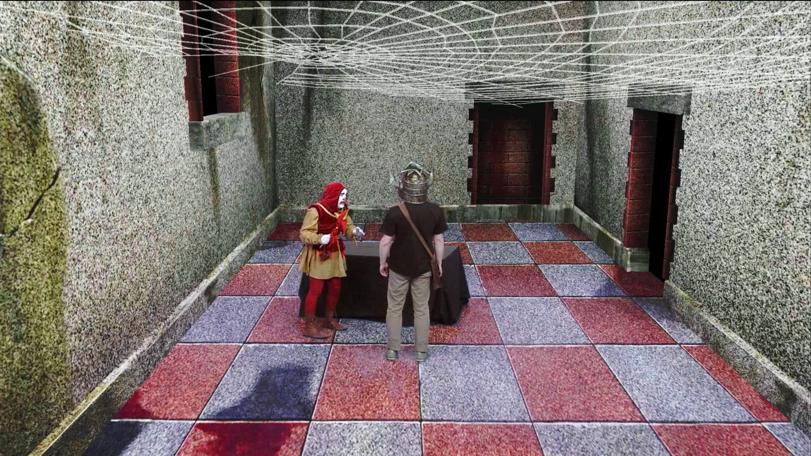 Thank you to Knightmare.com Forum members Canadanne and dugeoneerborne for posting about this coverage. It may please some readers to note that the writer of these articles, David Freezer, shares a forename with Knightmare's first ever dungeoneer and a surname with Knightmare's first ever quest spell.
Epic Studios in Norwich, where the filming took place, has posted a plethora of behind-the-scenes photographs on its Facebook page. See if you can find the one of Knightmare.com's very own Alan Boyd (Mystara) and the members of the Knightmare Live cast having an audience with Lord Fear, fiendishly disguised as a mortal performance artist named Mark Knight.
ITV News Anglia have reported on Knightmare's comeback too. Kate Prout's report includes clips of Series 5, interviews with some of those at July's filming and a mispronunciation of the Dungeon Master's name that makes him sound like a greenwarden.
Norwich itself is an anagram that encapsulates the triumph that many people are feeling at getting Knightmare back for at least one episode: Won! Rich.