Robin Barlow continues his look back on Knightmare and the personal experiences it's given him.
---
Part 1 focused on the 1980s and 1990s, when each new set of Knightmare episodes created new memories. After the TV series ended, being a Knightmare fan was a different experience - but, as it turned out, just as memorable and even more meaningful.
Student daze (1999-2003)
I was a UCLAN student during those years and always ensured Knightmare was at the forefront of any nostalgic kids' TV discussions. Also in my first term I had my first step onto a certain website...
Knightmare.com (1999-)
Or knightmare.clara.net if you will. Created by Nicholas Lam and now in Series 8 Knightmare winner Alan Boyd's hands. It remains my source for all things Knightmare as I still stay away from the likes of Twitter and Facebook.
David: 'You know you've been in the game a long time when you're nostalgic for a nostalgia aid. If you visited this website in its formative years, take a look at this archived page from 1999 and remind yourself of the good old flaming torches.
It was 1999/2000 when I sent the Knightmare website an email. The response I got from Nic Lam was so knice (as he would say) that I knew I'd be back. It's an honour to now be part of the website staff, alongside Robin and other friends, in a position to help keep carry the torch (metaphorical, not GIF).'
MSN and Knightmare Chat
With MSN Messenger gone, the main way to maintain gripes, fans theories and memories between large numbers of people in real time is to turn up on a Sunday night at 8 o'clock. I also created a version of Blind Date and won Billy's Who Wants to be a Millionaire?.
David: 'When I first visited Knightmare Chat, I used the screen name tres_garde. Nowadays, I'm just David there. Whether we're chatting or playing some of the specially crafted games, there's been plenty of fun over the years.'
Interactive Knightmare (IKM)
Interactive Knightmare is home to the ever growing Lexicon and many fun features over the years, as well as transcripts to hold people to account over.
David: 'I had a lot of fun with the caption competitions on IKM, as a warmup for getting involved with the fan community: fanfics, forums and everything else. The Lexicon (a Knightmare wiki of sorts) has been going since 2004 and I still contribute to it.'
Interactive Knightmare RPG (1999-2005)
A chance to dress up, script and overall have a laugh. My favourite personal creation was Ah Mok who was a wonderful fusion of Benny Hill and Mark Knight's creations combined with my own brand of twisted filth.
David: 'The Knightmare RPG wasn't really an RPG. It was a series of quests, run via the Knightmare chatroom, first with illustrations and then with video segments. It ran for three seasons, though footage was filmed for more. I joined the group in the latter years of that filming. LARP with cameras felt a little outside my comfort zone, but I wanted to celebrate a love of Knightmare beyond the boundaries of the forums. It was a lot of fun, and quite special, to spend time with other people who had carried the flame for the Greater Game.
Robin is an experienced and talented actor. His portrayal of a darker, dirtier take on Ah Wok was a joy to behold. He worked especially well with Morgaine, a Grotbags and T.Bag-inspired sorceress played by our friend Dave. I am still in awe of how exceptionally entertaining their double act was - and it wouldn't have been possible without Knightmare bringing us together.'
Watch with father
When I watched the show as an adolescent, Mum and Dad were forced to endure it. But on later Challenge rewatches, Dad was a much keener viewer. Back in the day I was chided, humorously, that I'd be "blipped and and blopped" if I didn't do my homework. I miss you Dad.
Knightmare VR (2004)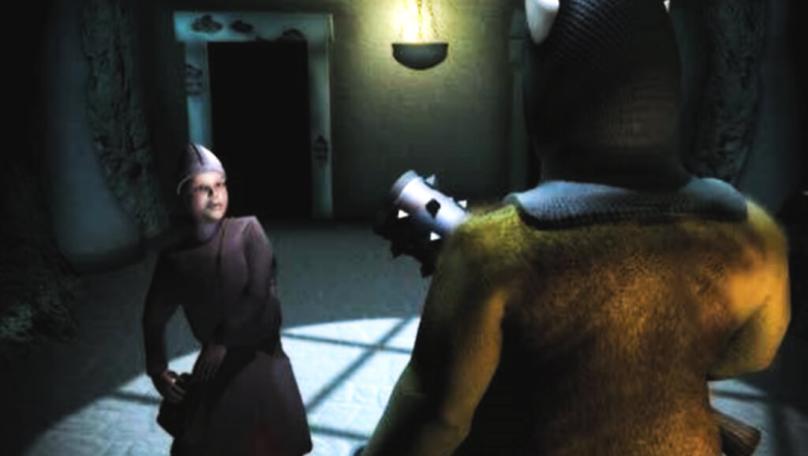 That dwarf tunnel music still won't leave my head... It was nice to have Knightmare back in a bold experiment which sadly doesn't go much further. Potential there for a computer game though.
David: 'In Summer 2004, excitement was building in the fan community about the Knightmare VR pilot, with images and video clips being put out one by one by Televirtual, Tim Child's company. A day or so before a fan meetup (where Robin and I first met), a clip was released where a dungeoneer walked along a tunnel, accompanied by jaunty organ music. Curious? Look up the Knightmare VR pilot online and you too will carry a Knightmare memory like no other.'
Filks / song parodies
I've contributed a number of these affectionate tributes. But overall the strongest were, and continue to be produced by Drassil.
David: 'That reverse Atlantean, who Robin is complimenting even before the bribe has gone through, would be me.
Knightmare was first and foremost entertainment. Writing Knightmare-themed song parodies has allowed me to evoke that entertainment value and in some cases entertain others too, which was especially great in my early days on the Knightmare.com forum.
I have written a ridiculous number, mostly to be found in the forum's song parody area. If you search on YouTube for 'Knightmare - Letter O', you can find the one that two Twitter friends very kindly turned into a music video.'
Knightmare Live (2013-)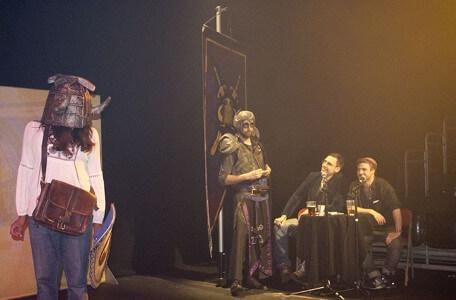 An enjoyable show that plays to its strengths and is deserving of a wider audience. Enjoyable endorsements and participations by Mark Knight and Hugo Myatt along the way.
David: 'I've seen Knightmare Live a good few times (and written the odd review for this website). The first was a humble preview show above a tavern. The latest had the added thrill of a cameo by Hugo Myatt. Thanks to the presence of cameras that night, you can enjoy the show too.'
The YouTube Geek Week special (2013)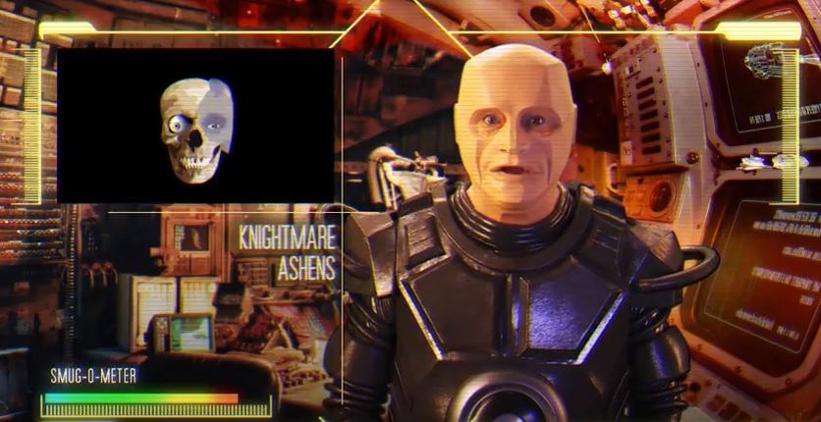 Now THAT's what I call lovely. A fun, nostalgic and knowing pastiche. All this and an introduction by Kryten too!
David: 'Tremendous.'
Knightmare Convention (2014)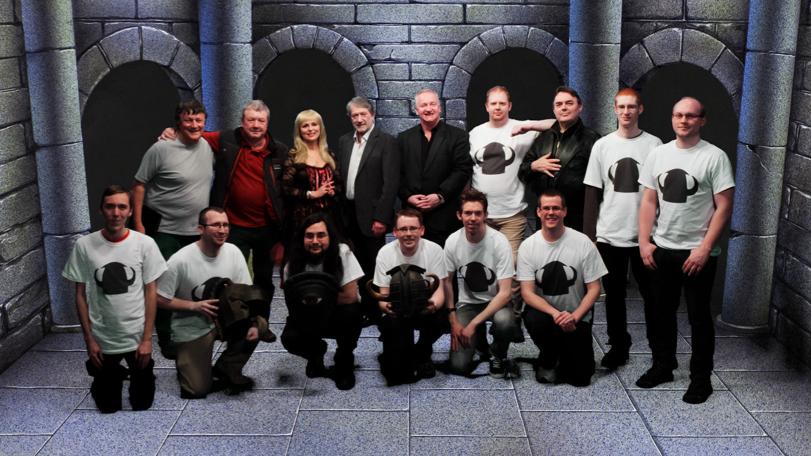 This was awesome in so many ways. Finally the realisation of a dream was achieved through a quartet of dedication which span out into a greater game for all staff involved. Never did I think in a month of Frightdays I'd one day direct, script for and star alongside Mark Knight (in our Saturday chat show Late Night with Lord Fear).
David: 'The Convention feels less like a memory and more like a dream. Thanks to the generosity of our supporters on Indiegogo, it was a reality.
While being a lifelong fan of anything can be a strongly personal experience, learning about and celebrating Knightmare with people who made it, in the place where they made it, with so many other lifelong fans, ensured it wasn't a solo experience.
The convention was always going to be a trip through the looking glass. Even so, one memory stands out as particularly surreal: Mark Knight standing on the stairs, ready for the Midnight Hunt event in full Lord Fear regalia, bellowing at the players as he applied black nail varnish.
When the weekend was over, I thought of Treguard's remark to the winners of Series 6: "You're going home now. I hope you won't find it a trifle dull."'
David Rowe's Art of Knightmare (2014)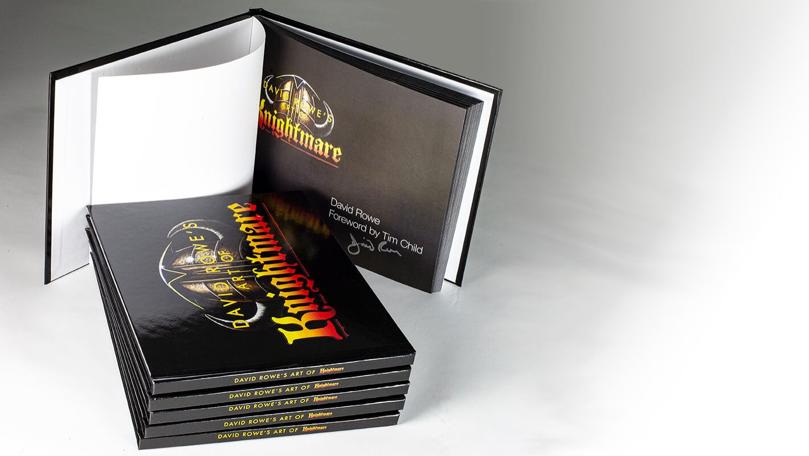 David Rowe's book was able to share more secrets and left us wanting a sequel. Delicious to savour and posed some questions as well as solving others.
David: 'Back when Knightmare was on CITV, I used to draw dungeon rooms. A portal here, a wall monster there. Without knowing about grids, voids or chromakey, I would emulate the designs of the classic chambers created by David Rowe. A quarter-century later, I became the owner of his crowdfunded book and got to explore those amazing rooms. More than the art of Knightmare, they were and are the heart of Knightmare.'
Enduring friendships
Through the RPG and various community projects I have made a number of strong friendships and shared so many laughs over a number of years. One such friend, Matt, is the brother I've never had and even came to dad's funeral despite being up to visit only days previously and living on the other side of the country.
Notmare (2017-)
An intense weekend filming our Knightmare parody sketches, in equally intense heat. Another chance to reconnect with friends and produce something to be proud of whilst being reverent to the source.
Thanks
Primarily to Tim Child for starting it all; the cast for producing so many happy childhood memories; the community for creating and sharing equally invaluable ones as an adult.
David: 'Adding to those thanks, I'm grateful to Robin for giving me the opportunity to think back on my own Knightmare memories.
I'll give the last word to Robin. Here is his entry in the guestbook of this very website, made 18 years ago today. There may be typos, but after all this time I think it still rings true - and not just because it was in capitals:
I MUST SAY THIS:
KNIGHTMARE WAS, IS AND WILL BE GREAT IF IT CONTINUES... AFTER ALL WE WERE GIVEN A GINT THAT IT WILL DO SO... REMEMBER LORD. F BEING BEING ASKED IF HE'D GIVE UP WHEREUPON HE SAID: "GIVE UP? YOU MUST BE OUT OF YOUR TINY MIND!!!!"'