Teams who reached Merlin's Chamber in Level 2 had to perform a task to summon the iconic wizard.
---
Series | 1, 2, 3
Level | 1, 2
Merlin's Chamber lay in the middle of Level 2 during the first three series of Knightmare.
Teams needed to reach the wizard and earn magic to help them complete the level.
Study
For the first two series, Merlin occupies a study.
The shelves contain books, potions and devices. A tall chair with mystical carvings sits in the centre.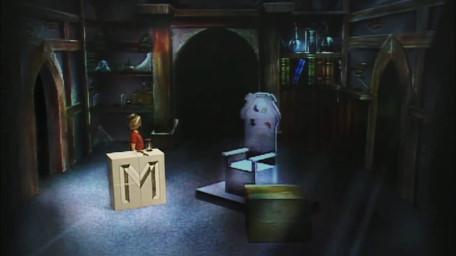 Usually, teams would find four blocks on the floor. Once they piece these together to form an 'M', the wizard appears.
He would ask up to three riddles and offer magic or assistance for good performance.
Steps
In Series 3, Merlin has a more cosmic chamber. It is a stone room with three arched windows and narrow platforms on the left and right.
The centre of the room is a chasm. Teams must evoke three tiles they have learned during the quest to form a bridge.
A circular emblem at the end of the bridge summons Merlin onto a throne.
The wizard asks two riddles. Teams must get both correct to earn magic, which is the only way to survive the level.
One dungeoneer perishes here attempting to jump a gap where they didn't discover the 'step'.