Knightmare cropped up in 'Quickly Kevin; will he score? The 90s Football Show'.
---
It's a podcast presented by Josh Widdicombe, Chris Scull and Michael Marden. At the end of each episode, two listener reviews containing '90s references are read out. One of the references is chosen to feature in the next episode's intro.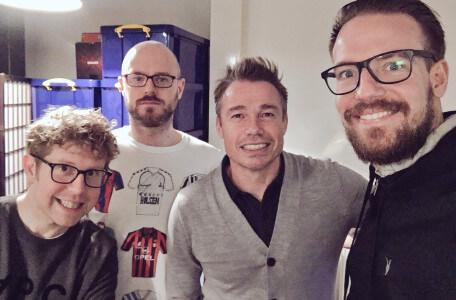 In Quickly Kevin S02E10 (27/11/2017), the first review referred to Divine Brown. Then came the second...
Chris: "'I was so impressed with this, I sidestepped left with laughter. Treeguard [sic] the Dungeon Master.'"
Josh: "Aah yes!"
Michael: "Hands down the winner for me."
Chris: "Is it Treeguard or Tregguard?"
Michael: "Who cares?"
[Laughter]
Chris: "I've only recently realised that wasn't Brian Blessed."
Michael: "Oh really?"
Chris: "Yeah. I didn't realise it was another guy. I just assumed... I thought that was what Brian Blessed was famous for."
Josh: "No, there's more people with beards."
You can listen to Quickly Kevin S02E10 on acast. The Knightmare reference is at 1 hour 15 minutes. However, S02E11 does not kick off with the promised Knightmare clip.
Josh Widdicombe is no stranger to Knightmare, having made a Knightmare reference on Mock the Week, served as a Knightmare Live advisor and written a cover quote for a book by Knightmare cast member Isy Suttie.
Oh, and Treguard (pronounced "Tray Guard", emphasis on the Tray) was played by Hugo Myatt. We looked it up.
Update, May 2022: Quickly Kevin S10E05 started with a discussion of Knightmare. There were references to Simon's sidestep to his left (slightly misremembered) in Series 4 and to Dickon Hares being a winning dungeoneer in Series 4.