If a new series of Knightmare could be made today, who would watch it, and who would broadcast it?
---
Following on from the recent celebrations surrounding CITV's 30th birthday, the re-broadcast of a couple of episodes on terrestrial TV and the 25th anniversary of the show itself, people are once more talking about bringing back Knightmare.
But what are the practical implications of this idea? Could we ever move beyond a hope and a dream?
The audience
Those who watched Knightmare when it was originally broadcast are now in their late twenties or early thirties. I've often heard these people say things like 'they should bring Knightmare back, but with adult contestants'. I'm not saying this could never be successful, but if the show was brought back in such a format it would be all about nostalgia (perhaps a bit like Red Dwarf X - enjoyable mainly to those who remember the glory years). It also seems folly to alienate the part of the audience who are perhaps best placed to appreciate the magic and wonder of a Knightmare-style adventure i.e. children.
No, if a new series of Knightmare hit our screens, it would have to be less 'remember this?' and more 'look at this!' A brand new audience of children would have to be able to watch and enjoy it as a brand new show. There's no major reason to doubt this could happen; thanks to Harry Potter and Lord of the Rings, fantasy is now firmly rooted in the mainstream and arguably the traditional Knightmare demographic is more receptive to the genre than ever. It is a genre which even today seems able to tempt children away from their games consoles to books, cinema and television.
That said, we shouldn't be too hasty in our dismissal of the 'adult factor'. Many adults love to escape into fantasy worlds to take their minds off household bills or workplace worries. I remember it being one of the few children's shows that my father was happy to sit through on the rare occasions he was home early enough. I've also heard that it had a big student following in its day.
Now a question it may seem odd to ask about one of the best loved children's shows of the last thirty years, but was Knightmare ever really supposed to be a kids' show? Or rather, was it best placed as a kids' show? The younger teams were actually quite frustrating to watch as they dithered over simple puzzles and took several minutes to guide their dungeoneer from one side of a room to another. With adult eyes, it seems that the format was perhaps too difficult for them. The older teams (the 'young adults') on the other hand were often comprised of brilliant minds and could be fabulously entertaining.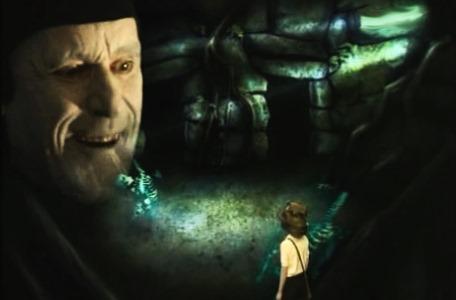 My (perhaps controversial) reading of the history of Knightmare is that it was gradually infantilised until it finally got cancelled. Consider its progress: the incredibly tough riddles in the pilot script (definitely not aimed at children!); the genuinely scary antagonists (Mogdred and Morghanna) and the absence of an obvious 'goody' in the early series (Treguard was always best when morally ambiguous); the move towards the pantomime villainy of Lord Fear and finally the comic-book trappings of characters like Lissard. CITV, and therefore Knightmare, were obviously trying to attract an increasingly younger demographic.
I find it ironic that the rationale behind the programme's eventual cancellation was that the original audience had moved away from television, instead spending their time playing increasingly sophisticated video games. Perhaps the young adults in the audience would have been less drawn by the pull of their Super Nintendos if they felt the show wasn't now aimed at those less mature.
Money is also big factor in determining the target audience because there simply isn't much of it available in children's television. In the commercial sector, falling advertising revenues and increasing competition from imported American cartoons on other channels has left CITV with relatively little funding; its in-house production unit was closed in 2006.
It's a similar story in the BBC where increased pressure on a fixed licence fee income has hit children's programming hard. Overall, around £50m less was invested in UK children's TV in 2010 than in 2004. Given that Knightmare, with its cast of actors and CGI, would be relatively expensive for a kids' show, it's unlikely that a new series in its previous format would ever be commissioned, be it on CITV or elsewhere.
So, Knightmare shouldn't be just for adults and wouldn't be feasible as a children's show. What does that give us?
A family show.
The broadcaster
The channel on which a new Knightmare would be broadcast depends on who currently holds the rights to the show. Being but a humble fan I am ignorant of such matters, but it's interesting to explore the hypothetical options.
If it was brought back as a family show, Knightmare would have to be shown in the early evening, possibly at the weekend. Now, this is 'prime-time' territory and in the commercial sector advertisers would expect it to really pull in the ratings. I fear this would inevitably mean (given the changing landscape of commercial TV over the last 15 years) celebrities and audience phone-ins. While 'dial now to see Piers Morgan face the corridor of blades' isn't totally without appeal, it would surely be sacrilege to corrupt the format in this way.
The other way audiences are often enticed to watch is by offering contestants large cash prizes. There are actually interesting parallels between shows like 'Who wants to be a Millionaire?', 'The Cube' and Knightmare in that very few actually make it to the end and complete the game. This is part of what makes these formats so popular - who can beat the challenge? Do viewers at home think they could do better?
Although a 'Cube' style Knightmare could potentially be watchable, with teams deciding to gamble their current winnings by taking on the next floor puzzle, the spirit of the show would be destroyed. Knightmare was always more than a mere game show; it represented another world with its own mythos, narrative and sense of scale. Offering real world prizes as vulgar as cash would remove the magic. This was actually a massive failing in the Sega-sponsored French and Spanish adaptations of Knightmare in which teams 'battled' through a handful of rooms in order to win a Master System. Perhaps workable ('Le Chevalier du Labyrinthe' is a very fondly remembered French kids' show) but far from ideal.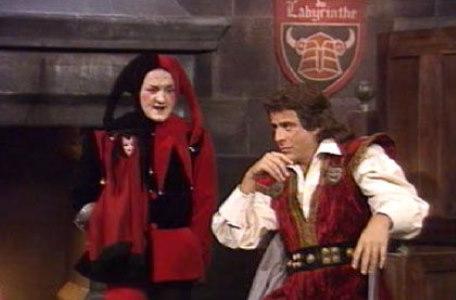 If commercial television isn't the option, would the public sector be able to deliver a Knightmare more in line with the show we all know and love? The BBC's public purpose to 'inform, educate and entertain' does seem to describe Knightmare perfectly (indeed, many people misremember it as a CBBC show). To my mind it would also fit perfectly into the Saturday night family/fantasy BBC1 slot occupied by the likes of Doctor Who and Merlin (there could even be cheeky links with these other BBC branded programmes - imagine a puzzle based on Doctor Who's weeping angels or perhaps cameos from Merlin characters).
If handled well and with the right amount of investment, Knightmare could easily help the BBC achieve its reach/quality targets and provide value for money for the licence fee payer (BBC commissioning decisions are based on such exciting things).
Without advertising revenue though, we come back to the question of money. Even with a larger prime-time budget, could a brave BBC commissioner afford to greenlight a Knightmare revival? Possibly not.
However, there's another potential revenue stream that could be exploited equally by either the commercial sector or by the BBC (via its commercial subsidiaries) - merchandising. If the show was successful, the Knightmare brand could become very powerful; one can imagine products from t-shirts and badges to top-trumps and mobile apps selling well. Money from these sales could then be pumped into future series (this is exactly what happens with programmes like Doctor Who). Of course, the more money invested in a revival, the better the show will be and the more likely it is that merchandising will be lucrative.
Next steps
I think a new series of Knightmare aimed at a family demographic has the potential to generate a lot of value for both audiences and the television companies involved. But ultimately three things need to happen:
Firstly, the current Knightmare rights holders need to become enthused about the prospect of a new series and try to find a channel to commission it.
Secondly, a commissioner somewhere out there in TV land needs to take a punt on the concept. Television executives like to put their own stamp on channels and will think nothing of cancelling a popular show just because it wasn't their idea. Somebody in a position of power needs to think rationally and realise that, despite the fact they didn't think of it, Knightmare is a great format which could be very successful.
Finally, the money needs to be found, whether from advertising, sponsorship or co-production funding via the BBC's commercial arm.
Well, what are you all waiting for?