The talented Jessie Cave, perhaps best known for her role as Lavender Brown in the Harry Potter films, plays one of two new characters in the Knightmare Geek Week episode.
---
Although slightly too young to remember Knightmare in its initial broadcast (born in 1987), Jessie mentions that her oldest brother is not only old enough to remember Knightmare, but was sufficiently obsessed with the show to be jealous of Jessie's new role.
We at knightmare.com sympathise!
Not wishing to give much away about her character, Cave merely mentions that her character is "maybe think a long distant cousin of Nancy from Oliver!".
In fact, having seen Cave's performance, the knightmare.com team believe that, should the series continue, her character could quickly become a firm favourite of viewers due to having both a fast-and-loose attitude and a quick mouth.
You have to use your imagination and get over the fact that you are in a huge blue box.
Of course, a character with a quick mouth requires an actress with the presence of mind to think even faster and stay in character.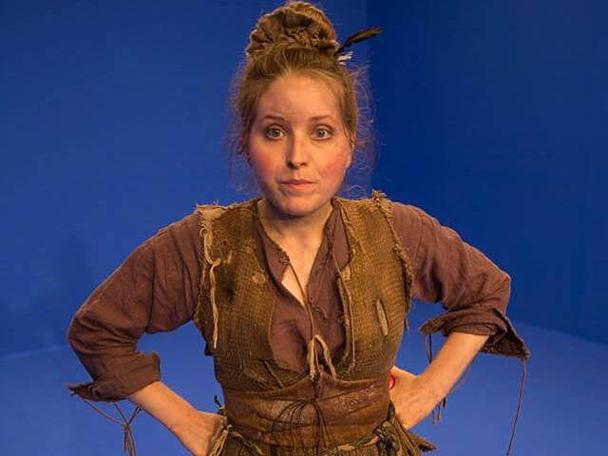 We asked Cave about these difficulties, particularly in how performing in Knightmare with a dynamic script differs from more conventional productions with a set of memorisable lines.
"It was so quick because it is obviously live so there are no re-takes. Also part improvisation because you have to respond to the players and what they might say or do.
"And you have to use your imagination and get over the fact that you are in a huge blue box. Once you see the little screen which shows what the effects will look like it makes the whole thing quite thrilling!"
The new Knightmare episode will feature as part of YouTube's Geek Week. We asked Cave if she considered herself to be a geek and what power such geeks have to make media companies sit up and listen, as seems to have been the case in the restoration of Knightmare.
"I think geek is a positive term and not as simple as 'guy in glasses loves computers'," she says.
"I am a geek because to me, geek equals passion for something to an arguably ridiculous degree. My geek strains are mostly to do with pencils and buttons and odd collections and scrapbooks. I have brothers who are big gamers and they would consider themselves game geeks.
I think the fans and geeks and people who group together have an excellent resource in the internet and potentially an awesome power which is all at once brilliant, scary and inspiring.
See Jessie's fantastic new character in the Knightmare Geek Week Episode.
Photo credit: Epic Studios, Norwich.